This was very different from my usual hospital visit. Instead of seeing patients, I was scheduled to go to an employee meeting. The email didn't say much about the meeting, other than it involved talking about the facility's therapy pet program. It was a last minute request, but my human and I happened to have the time slot open. So we stepped up.
We found out more when we got to the conference room. It involved a presentation about service animals, with an additional bit about the therapy pet program… and I was the special guest star! And I really did feel like a star. I was surrounded by hospital employees petting me, and taking my photo, and doing selfies with me! I stood on a table in the back for a few minutes and soaked up all the attention. What fun!
When everybody settled down, the human in charge asked my human and I to come to the front and talk about me, and the therapy program. I was very good and walked right up to the front on my leash. My human placed me on one of the front tables and I posed and looked cute while she answered questions about me. She explained things like how I got to be a therapy cat, and how the therapy pet evaluation is different for dogs than for cats. Things like that. It was just a short presentation and we were done.
When we finished, we stopped on our way to sign out to take some photos of me. Of course, several people stopped to look at me… and one of them was the woman giving the service animal talk! When she saw me, she guessed that I was the therapy pet who had just been in the conference room.
I thought I did such a good job, I deserved a couple of extra treats.
And I got them.
* * *
---
---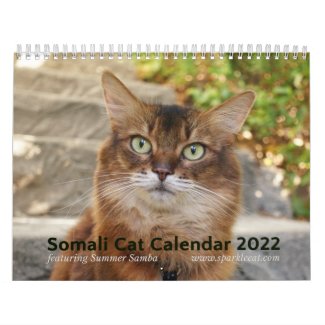 2022 Somali Cat Calendar Starring Summer Samba
See all of Summer's merch at her
her Zazzle Designercat Shop