I was posing for some photos in front of my house. It was just a regular day in the sun.
Then a UPS truck came up the street. I've seen delivery trucks coming up and down the street before… but this time it stopped right in front of my house! And the delivery guy came walking up with a cardboard envelope.
The UPS guy told my human it was for "Summer." "That's Summer," she said, pointing at me. So he handed her the envelope and left! So yeah, I got a special delivery from UPS while I was out front!
In case you were wondering, it was a promotional keychain from Litter Genie. They send me stuff to post on my Instagram feed every few weeks.
It wasn't much but it was worth a high five! I wish I got more deliveries while I was outside. This was a first!
Other posts you'll enjoy:
* * *
---
---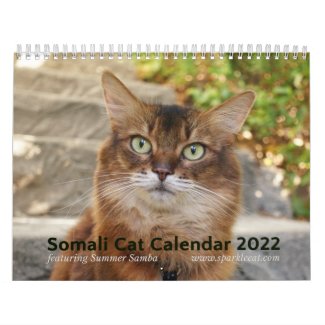 2022 Somali Cat Calendar Starring Summer Samba
See all of Summer's merch at her
her Zazzle Designercat Shop