The only real downside of being a public kitty is that I have to take baths. In fact, I get a full show bath twice a month whether I'm doing a cat show or not. That's to keep both my human and me in practice. I don't do a full bath for every therapy visit (although I do have a visit scheduled today), but I do have a touch up and claw trim.
The after-the-bath part isn't so bad. I get a leave-in conditioner combed through, and then a blow dry! In fact, one specific part of the blow dry is my favorite part of my spa day. It's kind of a secret. Can you guess what it is?
This part feels awesome.
I'm about 75% done with my blow dry, so I guess I'll pause and take this week's selfie.
I hope my human doesn't mind that I'm messing with her iPhone with wet paws.
Darn! This one would have been pretty good if I hadn't cut off the tips of my ears.
Well, this one is better… or it would have been, if not for that light flare at the left edge. My human fixed it in Photoshop, but you can still see it just a little.
Just for fun, I included this profile selfie, just because I like the way it turned out.
I hope you enjoyed my selfies… and don't tell anyone about my spa day secret!
* * *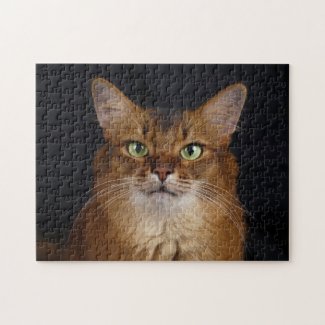 Somali Cat Photo Portrait Jigsaw Puzzle
See all of Summer's merch at her
her Zazzle Designercat Shop