I had so much fun in South Gate at the cat show as a Pet Me Cat, but I'll have to tell you all about it tomorrow. First, I want to tell you about my two relatives who were actually competing. One of them you'll remember, but one is brand new!
This is Decker! He is only 5 months old, and he is my baby half brother. We have the same father. He is also the younger brother of Vana. You remember her, right? Decker and Vana have the same parents. This was Decker's very first show, and I think he was a little confused about what was going on!
Judges know that kittens often need a little bit of patience and extra love. Decker's first judge of his first cat show was this nice lady, and she gently reassured him.
Some kittens are naturals at cat shows, but some need to get used to it. If they start out shy, it doesn't always mean they aren't show cat material. Vana, for example, was a shy girl at first, but once she got the cat show bug, she was amazing on the judging bench and wound up with some nice awards! Another kitten who needed to get used to cat shows, surprisingly, was Riser… and now he's in Brazil and has pretty much taken over the whole country with his big personality.
And just because a kitten is new to cat shows, it doesn't mean his good looks will be ignored. This judge gave Decker a final. He has a lot of good qualities that are already apparent.
Another reason it's important for Decker to get out and about is that he is going to live with a breeder in Denmark in a few weeks! My breeder wants to expose him to new situations and travel so that when the courier human comes to hand carry him to his new home, he will have had some experience with strangers and going places. My breeder is very careful with her kittens and wants to make sure they have the best homes… and are ready to go there.
As part of Decker's training for going to his future home, my breeder had my human handle him for most of the show and take him to the rings. She worked a lot with him to get him in good poses for the judges… but what he really wanted was belly rubs! He loves them.
And yes, my nephew Louie was at the show too. He is now eight months old, so he's out of the Kitten class and into the Premiers. Maybe you are wondering why he is competing as an altered cat, and not intact? Well, it turned out that one of his testicles didn't drop, and that's not a good thing for a cat meant to be a breeding cat. So my breeder had him altered, and she thinks she has a good home for him. There was a condition with getting Louie… he has to continue showing because he really, really loves it.
Louie is an active boy who needs a lot of stimulation, and he's at his best performing for people in the judging rings.
Also, he's stunning! Look at how graceful he is. He was competing against my old pal BJ for this show, and BJ is a Grand of Distinction (that means he got at least 30 finals in each of three judging seasons). So Louie came up second against him in the rings. But give him some time to continue developing, and I'm sure he'll be getting finals.
There is a reason my human refers to him as "crazy Louie!" But she likes him a lot and says that if she didn't have me, she would want him. It does look like someone in the region just north of us wants him as part of her family, so with any luck we will be seeing more of Louie at shows in the future!
* * *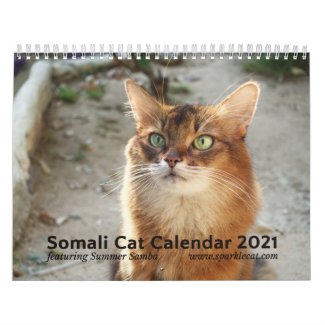 2021 Somali Cat Wall Calendar, Starring Summer
See all of Summer's merch at her
her Zazzle Designercat Shop