Yesterday, I told you about a bunch of things I had that got lost. Now here is something I found! My human has been trying to declutter her office, and she found this Hello Kitty harness in a box of random stuff. She doesn't remember where it came from, and neither do I. It was undoubtedly a gift, but I'm not sure from who. Anyhow, I wore it to go out back for a little while.
As you can see, we are getting our winter green! It has rained a little, and it is going to rain more over the next week. I'm going to be stuck inside when that happens, so I figured I'd better get some outside time now.
Let me show you some more of the backyard!
As you can see, not all of the backyard is green yet — but give it a couple of weeks, and it will be!
I hope you enjoyed seeing the backyard as much as I'm enjoying my Hello Kitty harness!
* * *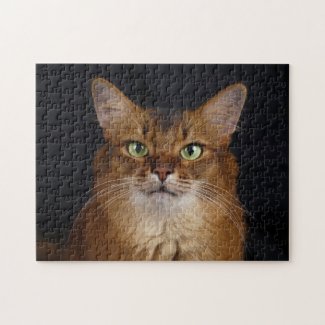 Somali Cat Photo Portrait Jigsaw Puzzle
See all of Summer's merch at her
her Zazzle Designercat Shop