Along with the other things my human found the other day, she dug up this costume. It's not something she got. I think my breeder gave it to her. Normally she doesn't put this sort of thing on me because she thinks they are too silly for me. And I tend to agree. But we are stuck here without anywhere to take me, so that means I'm also stuck with this costume. So let's get it over with.
See what I mean? And we haven't even gotten to the hat yet.
Maybe this flies with other internet cats, but it's really not my thing.
In spite of it all, I tried my best to strike a pose.
I also did my tricks, including ringing my bell. I don't think pirates are supposed to do tricks, do you?
Do you think I should wear more costumes like this one? Please say no in the comments.
* * *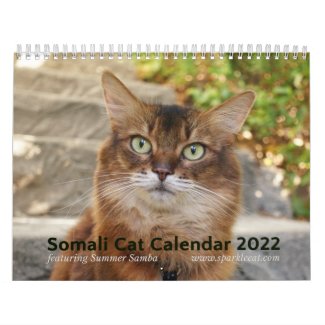 2022 Somali Cat Calendar Starring Summer Samba
See all of Summer's merch at her
her Zazzle Designercat Shop