The outtakes have piled up this week, so I'm sharing the best — or worst — with you! You may have to look closely at the above photo to see the tiny raspberry I was throwing my human's way.
This is what happens when there is no way to fasten a tiara to your head. I'm actually pretty good at balancing them for several shots, but eventually they all go south. As you might guess, posing in several of them for one blog post was a challenge.
Yep, my human did it again — in a lame attempt to get my attention with a cat toy (made by the 15 and meowing human, by the way), she got her hand in the shot.
My human has been trying off and on to get some decent shots of me wearing this unicorn horn for my calendar, or for a card. So far, every photo shoot has been a big fail. The latest attempt resulted in this bizarre photo, in which I'm fiercely attacking my favorite skull head toy. Do unicorns do that?
This head-shaking photo is from the same photo session. If you look closely, you can see that my human had attached a rainbow tail to my own tail to go with the unicorn horn. Trying to make that tail and the horn look good was a job that was beyond either of us.
I hope you enjoyed my silly Caturday outtakes! Let me know which one was your favorite.
* * *
---
---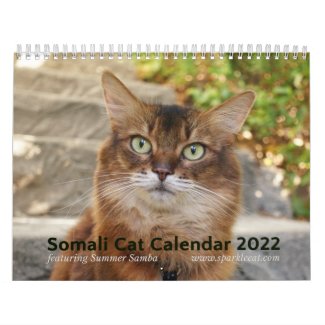 2022 Somali Cat Calendar Starring Summer Samba
See all of Summer's merch at her
her Zazzle Designercat Shop