Totally unexpectedly, I received a package a couple of days ago! Even better, it was from Sweden!
Of course, I looked at the declaration form to see what was inside. No, the "candy" is not for my human — cat treats in Swedish is virtually the same word as candy. So the sender used a literal translation into English. But… a potholder? What is that about?
Wow, look at all the candy that was in this package!
This cute Reflex hanger was the last thing to come out of the package. Apparently, wearing these is a thing in the more northern countries and areas, especially in winter when there isn't a lot of sunlight. It may also be a thing here on the dark streets around my house!
So you are probably wondering who these super-thoughtful gifts are from! They're from my pals at The Daily Abyssinian (which now includes Singapura Logan in their clan). Sparkle was pals with them when Jake, Angel and their human lived in Boston, and my human and I actually met their human at BlogPaws the year before they all moved across the Atlantic.
And now about the potholder! As you can see, it has a Somali cat on it, with a description. It says we are "active, curious, high-spirited, adorned by a gorgeous, semi-long coat. Yeah, that's about right! My human loved it.
My human also wanted to get a photo of me posing with the potholder to compare faces. Eventually I complied. I just want to say that my ears and eyes are wider set than the cat in the potholder. So I fit the breed standard better. Also I have higher color in my ruff. This means that if we were competing at a cat show, I would almost definitely get the Best Somali ribbon over this cat. I hope I didn't get too technical for you! Anyhow, my human adores this potholder (breed standard or not), and it is not going to be put to use, ever. Except to maybe bring to a cat show.
Now let's get back to those cat treats! I really do go crazy for these. My human could barely get me to sit still. In fact, this one has the best focus she could get. (Don't worry, Binga and Boodie got some too.) These are coming with me on my next big adventure, which is happening… very soon!
Thanks, Jake, Angel, Freddy, Logan and Pyret! Oh, and to their human and stamp supplier too!
* * *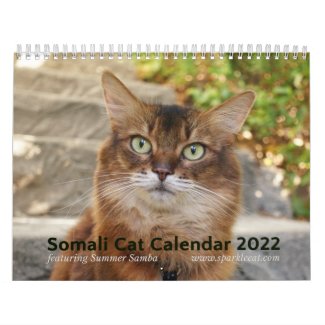 2022 Somali Cat Calendar Starring Summer Samba
See all of Summer's merch at her
her Zazzle Designercat Shop