A couple of weeks ago, when my human went downtown to the Convention Center to drop in at the AWP Conference and Bookfair, she made a quick stop at Olvera Street. You know what that meant: more props for me. But there is one thing missing.
Yep, the sombrero! I bet a lot of you remember when the humans brought it home a few months ago. Ever since then, my human has wanted to put together a Cinco de Mayo photo shoot, but it took her a while to get everything together.
My posing has gotten a lot better since the first time I tried wearing this hat.
I think I'm getting pretty good at this!
Well, I'm not perfect!
* * *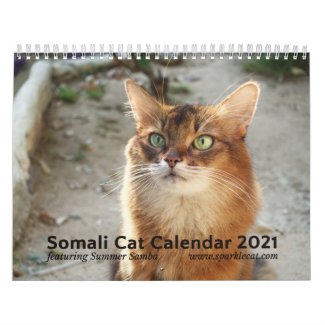 2021 Somali Cat Wall Calendar, Starring Summer
See all of Summer's merch at her
her Zazzle Designercat Shop