I was one of the Top Alters in TICA and a Top Premier in CFA last season — now, finally, I got my awards for being one of the best Somali Premiers in CFA worldwide! To be exact, I was fourth best Somali cat in Premiership, and I now have the certificate to prove it!
I think some kitty is jealous of all the awards I've received.
There was also a booklet that came with the certificate.
Here is the page that features me! I also got a mention for being Third Best Spay in my color category, which is Ruddy.
And I saved the best for last — I also got a really huge ribbon! Isn't it gorgeous?
As you can see, the ribbon includes a silver disc with my name. I had an amazing season last time! I won't do anywhere near as good this season even though I still plan to show a little, but I don't care — I have other exciting plans to look forward to.
Note: Many thanks to Breed Council secretary Tammy Roark for all her hard work preparing the booklet, awards and ribbons!
* * *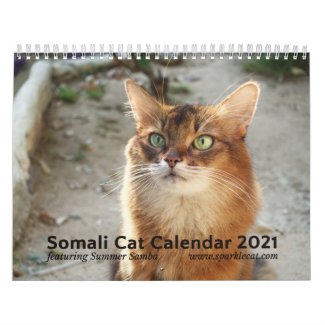 2021 Somali Cat Wall Calendar, Starring Summer
See all of Summer's merch at her
her Zazzle Designercat Shop