Oops! It looks like I'm late to the photo shoot. I'd better get in place.
It's been a while since I've had any giveaways, so I thought I'd make up my own! When my human was off helping my breeder show Billie last weekend, she picked up some cool things from one of the vendors. So that's what I'm giving away. It's a kitty print three-ring pencil carrier, a cute spiral notebook (the pages are a grid, which is cool if you doodle!), and some sticky-paper kitty page markers.
Of course, I couldn't have a giveaway with just human things! So I threw in a bag of Party Mix treats too. Oh, and did I mention the giveaway is worldwide? It is!
I think it's a nice small spring giveaway! And as you can see, the pencil carrier fits more than just pencils! It has two pouches, in fact. Plus, I'm making the giveaway even better for my newsletter readers. If the winner is a newsletter subscriber, I will also throw in a copy of one of the Rescued books (either the original Rescued or Rescued Volume 2), or a copy of Dear Sparkle: Cat-to-Cat Advice from the World's Foremost Feline Columnist! (The Dear Sparkle book is out of print, but we have copies here!) It's the winner's choice, as long as they're a subscriber!
I'd better make sure there's nothing else in the prize package!
Wait a minute! Where'd she come from? I'd better hide the Party Mix! Good luck, everyone!
Note: Links to the Rescued books are Amazon affiliate links and I get a small commission if you click on them and buy something from Amazon.
* * *
---
---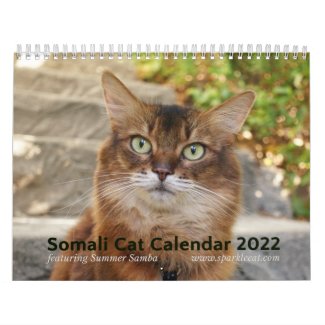 2022 Somali Cat Calendar Starring Summer Samba
See all of Summer's merch at her
her Zazzle Designercat Shop