My human tends to collect random things during the holidays, meaning to give them to somebody at some point… and then never gets around to it. Sometimes they're things she found on sale after the holidays are over. Sometimes they're things meant to go in a Secret Paws gift box, but they get misplaced. Anyway, we have a few things piled up… so I decided it was time for a giveaway!
So here is what we've put together!
I have two Christmas cat toy stockings, a cute ornament ready for a photo of your cat (or cats, if you can get them to pose together), black socks with crystals in the shape of paws, and a journal. And if you live in the U.S., you can enter to win them! (It's too expensive to ship internationally, but if you like, you can enter for a friend in the U.S.) Just leave a comment on the blog and say you did in the Rafflecopter widget below. Then you'll get more chances to earn entry points. The giveaway ends at midnight Pacific Time on Monday, December 14.
And here's something for everyone! The Etsy seller who made my cute new hat, and the fragrant crinkle mat too, is giving away holiday bandanas to my pals who make a purchase at her store! Just use the code SUMMER in the Notes area, and tell her what color you want! Visit her Etsy store here.
Are we done? Do I get a treat now?
Other posts you'll enjoy:
* * *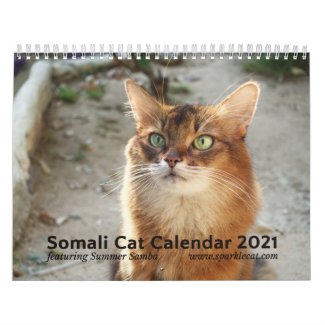 2021 Somali Cat Wall Calendar, Starring Summer
See all of Summer's merch at her
her Zazzle Designercat Shop