I've been waiting for a while for this dress. First my human saw it at the pet store and it wasn't in my size. Then, on another shopping trip, she found it in what is normally my size. But when she brought it home she discovered it ran way small, and it was too short on me. So she had to exchange it. So I'm sizing up for this dress. Don't you hate having to do that?
The only problem is that, even though the length is perfect, it's still a little too big for me!
It was hard to make the dress look as nice as it does here. It's frustrating how something that's just a bit off can be so difficult!
You can see from this view how it just isn't flattering. Which is too bad because the material is really nice.
So that the modeling session wasn't a total loss, my human pulled out these Halloween hair ties she got from CVS. She had an idea for how I might be able to wear them.
The cat hair tie was a big nope. Can you even tell it's a cat?
The bat one was only marginally better. So these were a waste of money.
Even though nothing worked out in this modeling session, I still got to practice my tricks! That was awesome.
Other posts you'll enjoy:
* * *
---
---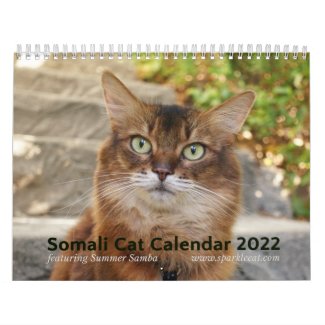 2022 Somali Cat Calendar Starring Summer Samba
See all of Summer's merch at her
her Zazzle Designercat Shop