It's time for photo flubs again, and I actually have more than I can share! So here are the best of the worst. Above, I'm making a grab for that little paper cup of treats instead of posing nicely, like I was supposed to.
I don't know why I was making this face. The Memorial Day chicken smelled awesome!
My human took a bunch of photos during the pet store trip where I found the Pride dress that didn't fit. But they were terrible! Really boring. The only interesting photos were me in the dress, and this outtake with one of my eyes shut.
There were quite a few outtakes of me during that Pride photo shoot! I kept going out of shot and trying to walk towards my human. Maybe she wound up playing with me to burn off some excess energy.
Why am I wearing my rainbow tie and my Pride dress at the same time? And why is my human's hand in the photo? And the biggest question of all is why does this photo even exist?
And that's it for the outtakes! Yes, I do feel rather dubious about them. Do you have a favorite? Let me know in the comments.
Other posts you'll enjoy:
* * *
---
---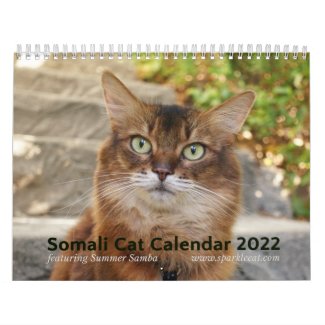 2022 Somali Cat Calendar Starring Summer Samba
See all of Summer's merch at her
her Zazzle Designercat Shop