The cat show I was at this past weekend was the very last of the season. It has been a crazy few months for me because I am registered in two different organizations, the Cat Fanciers Association (CFA) and The International Cat Association (TICA), and I've been showing in both! This show in particular was very important for me, and I will tell you why at the end of this post.
I did make finals in this show, and here I am in one of the final rings. The big guy on the left is a Maine Coon and the boy on the right is an Exotic Shorthair. One thing you need to know about this pair — they are a couple of the top cats in TICA in my region! In fact, when they update the scores with the points from this weekend, they may even be the top two. Both my human and the Maine Coon's people thought it was hilarious to see the two of us next to each other and they were all snapping photos.
The special thing about this weekend's cat show was all the Supreme cakes. The title of Supreme Grand Champion or Supreme Grand Alter (I'm an Alter) is a very high title and very difficult to get! If you are a good cat who measures well up against the breed standard and lands enough finals, you get to be a Grand. If you keep showing and earning more points and getting more finals, you become a Double, then a Triple, then a Quadruple Grand. You need even more points to get to the level of Supreme — and you need to be Best Cat in a final after you have become a Quadruple Grand.
A lot of times when a cat makes Supreme, they have cake for all the humans. Can you believe five cats got Supreme cakes that weekend? My human was on sugar overload because she can't turn down cake! This one had whipped cream frosting, and I really wanted a taste.
I will tell you something about me you don't know yet: I am already a Quadruple Grand! But I am not a Supreme yet because I haven't finaled as a Best Alter since I got my Quad points. And you know why? 'Cause it's hard! I mean, I finaled several times this weekend and had really good placements, but I was competing against all these top cats! I was Second Best to that Exotic Shorthair cat several times. He's, like, perfect, so no wonder the judges kept giving him Bests. He was probably getting Best Alter in rings where I was not even one of the finalists.
So there was no Supreme cake for me this show, and my human wasn't sharing hers. The points carry into next season for this title, so I still have a chance, but it is going to be even tougher because I will also be competing against two very handsome Somali boycats! You met one last weekend, BJ. The other one is just out of kitten class and he looks like he's fun and lively! I think you will like him. My human does!
There were 10 judging rings this weekend, and I finaled in six! It was a really good show for me — all the placements were second or third out of five cats finaling. I have done really well this season, especially considering that I have been competing in the adult Alter class for only half of it! In fact, in CFA, I am one of the Top 25 Premier (alter) cats in the Southwest region, and one of the Top Five Somali Premiers! TICA has Top 20 regionally, and coming into this month's shows, I was right on the edge of making it. I am crossing my paws that the points I got are enough to make me a TICA regional winner too! Now I can tell you that's why I needed those professional shots — for the awards!
* * *
---
---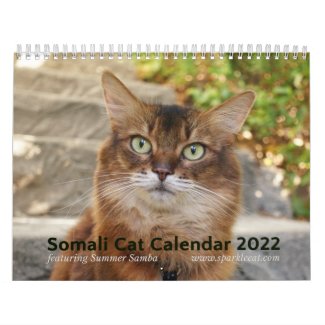 2022 Somali Cat Calendar Starring Summer Samba
See all of Summer's merch at her
her Zazzle Designercat Shop