Let's take a look at my days as a show kitten for this throwback. My breeder reminded my human about this show put on by TICA (The International Cat Association) because it popped up in her Facebook memories. It was a local show, only about 15 minutes from my house, and it was almost exactly 7 years ago this week.
By this time, I had been competing in shows for over two months, which was a third of my life at that point! So it was a world I was familiar with (and still am, to this day).
Cat shows involve a lot of waiting around to be called to rings. So I had loads of time to just hang out with my human.
Sometimes I got a little bit sassy!
You are probably wondering how did, so here I am with the ribbon. I finaled in three rings over that weekend. That's okay, but not super impressive! Those shows were tough, and there were so many kittens that were wonderful examples of their breeds. And when it comes down to it, with so many kittens that good, it just becomes subjective who winds up in a final. So honestly, my human and I were grateful for the wins I did get.
Although I don't compete anymore, I still love being at cat shows, and I'm glad to be able to return to them.
Other posts you'll enjoy:
* * *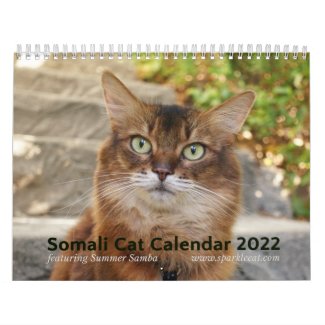 2022 Somali Cat Calendar Starring Summer Samba
See all of Summer's merch at her
her Zazzle Designercat Shop