You've probably already guessed this is not the selfie part of my post today! I would never handle my human's iPhone with wet paws. But I thought that since I had to have a show bath this week, in addition to that butt bath a few days ago, I might as well do selfies at some point during the process.
I get two shampoos, some special, proprietary rinses (my breeder has sworn me to secrecy!), and then I get a quick towel dry, just to soak up all the extra moisture. I don't really like being swaddled like this. I feel foolish.
As you know, I don't mind the blow dry. I don't even mind being in the bathroom when my human is blow drying her own hair. I hear that it used to freak Sparkle out. She is lucky she never had to have a bath. I don't think she would have liked it.
The whole process from the shampoos to the blow dry takes a little over an hour. Abyssinian cats, with their shorter fur, take much less time. Persians, with all that fluff, can take up to four hours — not to mention all the maintenance they need in-between baths! My human does not have to do much with me between baths and I still look good, although I may not look show-ready like I will once this bath is done.
Anyhow, now that I'm done, it's selfie time! So I need to get set up.
Of course, there's always a spot or two that need to be fixed.
Oops, this one was a little off-center.
Now I've over compensated.
Oh well, it's centered but it's still not perfect. My human says it's time to go, so I guess I'm done.
* * *
---
---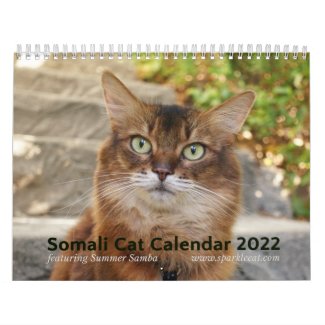 2022 Somali Cat Calendar Starring Summer Samba
See all of Summer's merch at her
her Zazzle Designercat Shop