My human and I did something special today — we went shopping at the other big chain pet store! The one that's farther away. These days, that's almost like a big trip for us.
As I suspected, Halloween costumes were already out. But there wasn't much of a selection.
There wasn't even much of interest in the regular clothing section. I was hoping we could find something here, but it was no better than the other pet store.
Usually, this store has doggy day care and dog training lessons, but because of the pandemic there's none of that going on. So there were barely any dogs and I got to wander around lots. Which was awesome, because it's a huge store!
I got to check out all sorts of displays.
I got to rub on lots and lots of things!
I even got to hang out in this igloo! Because I don't get a chance to go many places these days, we spent lots of extra time in the store so I could explore.
But eventually, we had to check out and leave. I did have lots of admirers, including the staff member at checkout.
I want to go back already!
* * *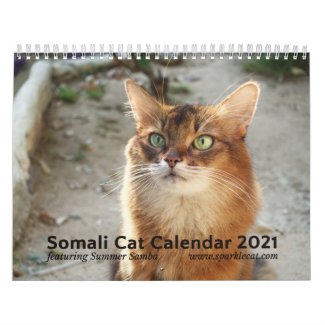 2021 Somali Cat Wall Calendar, Starring Summer
See all of Summer's merch at her
her Zazzle Designercat Shop