I still needed to pick up some items for the Cat World Domination Day giveaway (plus I was out of my dinner cat food). So I went shopping at one of my favorite pet shops. As you can see, I wore my Pride tie. The shop is LGBT owned, so I wanted to show my support.
The owner is really nice! And usually when we stop by, he gives me treats for a few high fives.
There's always so much to see there! And I like that they carry some small brands and things you don't see every day.
They have a wall full of some really awesome cat toys!
They have a whole table of awesome smelling things, many of which I can't even identify.
This is probably the closest thing you'll see to an R-rated photo on this blog! But the thing is, they come from a company that uses every bit of the bison they sell. The parts that humans won't eat are still good, and actually quite healthy, and they wind up as pet treats. So this, and some of the other bison parts they had for sale, are actually a good thing! But no, we didn't get any.
I did spend some time exploring, in addition to shopping.
I also looked through the things on the spring sale table.
Anyhow, I think I picked up some good toys and treats for the giveaway! Not all, but most of the items you'll see in Friday's giveaway came from here.
Other posts you'll enjoy:
* * *
---
---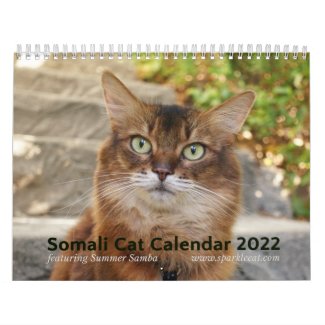 2022 Somali Cat Calendar Starring Summer Samba
See all of Summer's merch at her
her Zazzle Designercat Shop