I got to have a shopping day! My human took me to the pet store because she wanted to get me a new drinking fountain. Mine is kind of old, and I decided I preferred trying to drink out of the sink. So she felt it was time to replace it.
It was actually kind of busy at the pet shop. Since this store is bigger than the other local one I visited the other day, they can have a few shoppers at the same time. So I got some attention, some pets, and one guy even took a photo of me!
Once again, I confirmed that the dog toys are boring compared to the cat toys.
My human checked the litter, but they were out of my brand.
This is the shelf where my litter would have usually been. They did have it in the next larger size, but it's too big for my human to handle.
It turned out that they didn't have the right drinking fountains in stock. My human promised to get me one online.
We did get some food so the trip wasn't a total bust. And I got petted while we were checking out. So I had a good time!
Other posts you'll enjoy:
* * *
---
---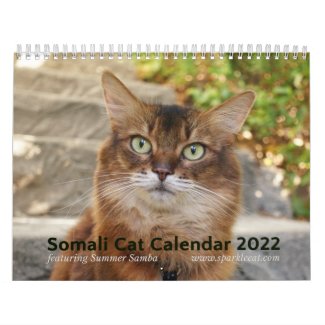 2022 Somali Cat Calendar Starring Summer Samba
See all of Summer's merch at her
her Zazzle Designercat Shop