Yay, it was shopping day, and my human took me to the pet store! I was interested in seeing if there were any good holiday outfits.
I was disappointed to find that everything on display was from last year. There were holiday sweaters, but they were all of the ugly type, which I don't care for. (Let the dogs wear those.) And there was barely anything new in the winter wear too.
I did have fun wandering around on my leash. I got lots of attention from shoppers and staff! That may be my favorite part. People are always surprised at how well I walk through the aisles.
My human always worries I am going to actually try out the the litter boxes. But don't worry, I was good.
Of course I tried to convince my human we needed a new cat condo. And once again, she ignored my request.
So it was basically a routine shopping day for me.
Well… I did get some new treats! There was that.
* * *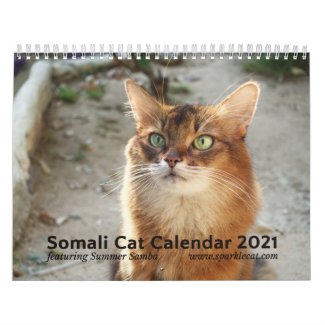 2021 Somali Cat Wall Calendar, Starring Summer
See all of Summer's merch at her
her Zazzle Designercat Shop