My human needed to get a new media cabinet, and she found one she liked on Overstock. The only problem was that it needed to be assembled. Well, she did not think it was a problem — she figured she could do it herself, no problem! Can you believe that? Assemble a media cabinet without help? We cats couldn't let that happen.
I helped every step of the way, beginning with removing all the different pieces from the box.
And I made sure she put all the different pieces together the way they needed to go.
I also made sure the instructions were always nearby, so she could double check her work every step of the way.
It was important that the doors went on the correct sides! I even looked for myself.
With my help (and occasionally Binga's), my human was able to assemble the media cabinet! Do you think she could have done this without our help? Of course not.
Of course, I gave her a high five for a job well done.
* * *
---
---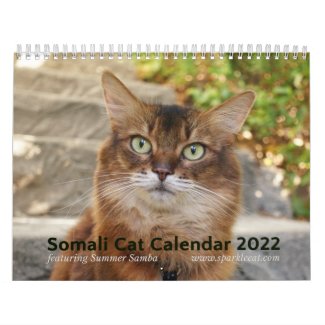 2022 Somali Cat Calendar Starring Summer Samba
See all of Summer's merch at her
her Zazzle Designercat Shop