Bad Kitty
My human got me a new computer! I'm quite impressed by her generosity.
The only problem is she gets annoyed when I sit on it. That's rather presumptuous of her, considering that it is my computer, after all.
This has been a stressful month. First off, my human's boyfriend took away Boodie. It had something to do with "having her teeth cleaned." I didn't think much about it at first. In fact Binga and I hung out and she groomed my tail for me.
But then my human's boyfriend brought back the carrier the next day and I thought Boodie had returned. It certainly looked like Boodie. She didn't smell weird at first. My human says that's because she took the towel Binga and I were lying on and rubbed it on Boodie, but she's mistaken. I mean, cats aren't dumb!
But then I got close enough to her to give her a real whiff and realized it was an impostor! Boodie has stinky breath and this cat's breath wasn't stinky at all, so clearly my human was trying to trick me! I was horrified and did the only logical thing — I attacked this fake Boodie.
I chased her all around the house and cornered her in my human's office.
Binga wanted nothing to do with the whole debate. She sat on the bookcase and took a neutral stance on the issue.
My human didn't like my behavior at all and kept insisting that this wasn't a fake Boodie but the real thing. Obviously she was lying, but she acted like I was the one who was out of line. Because I wouldn't stop harassing the fake Boodie, my human finally put me in the downstairs bathroom and closed the door until I "calmed down."
I tried the door — I'm usually pretty good at opening doors — but it was shut tight.
Then I noticed that she put a bed in there for me, and even added a couple of my favorite toys. I wondered just how long I was supposed to stay there!
Since there was nothing else to do, I took a bath. It was the bathroom, after all.
I got let out after about 20 minutes, but I kept having to go back there because I wouldn't tolerate the fake Boodie. Eventually it got so that my human would just tell me to "go to my room," and I'd head off to the bathroom. I even started hanging out there when I didn't have to. It was actually kind of nice.
Because my human and her boyfriend were going out of town, she was concerned that I'd keep attacking the Boodie impostor while they were away, but I calmed down enough for a pet sitter to take care of us all. That was kind of too bad because she was thinking of boarding me — just me — at the Cat Hotel. That would have been fun — I could have hung out in the Enchanted Forest again! But no such luck.
When the humans returned from their trip, we were hoping that there were gifts for us. Sure enough, there was something wrapped up in the suitcase.
It was actually a couple of toys and a catnip cigar. She got them from a place called Two Paws Up.
I liked the little ping-pong ball better than the cigar. I'm a lady — I don't go for cigars.
Binga was oblivious to it all — she kept fooling around with the paper.
My human finally took the cigar and gave it to the fake Boodie, who went nuts over it — just like the real Boodie would have. I'm beginning to think that maybe this isn't a fake Boodie at all, but the real one.
So I was pretty happy with my gifts until my human informed me about the treats she left back in Maryland. The box said, "Treats for a Good Kitty," but since I'd been a bad kitty, she gave them to the cat who lived at the house where they'd been staying. Bummer!
* * *
---
---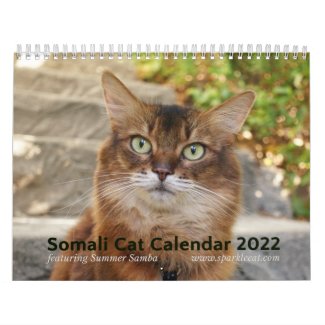 2022 Somali Cat Calendar Starring Summer Samba
See all of Summer's merch at her
her Zazzle Designercat Shop