It has been a while since I got the chance to visit the seniors at the assisted living facility that my organization works with. Not since May, in fact! But I was back this past weekend, and even saw some familiar faces.
My human and I visit two homes that are on the same street. The first one is for people with more advanced cases of dementia and Alzheimers. We go to a big living room, and the residents are mostly very nice, although some are asleep or in some other way not conscious of my presence. A man in a wheelchair petted me with a big, heavy hand but he was kind and wasn't rough. Another man was thrilled to see the "gato"… yes, that meant me in Spanish! I'm not sure how advanced his dementia actually was, since he soon figured out I was a "gatita" (little girl cat).
Something happened in the living room that the workers there are probably used to, but that upset my human, although she tried to pretend it didn't. One of the residents, a man, started fading, and the staff surrounded him, trying to keep him alive until the EMR firefighters showed up. They were shouting his name and trying to wake him. My human was beginning to think he was going to die right there. He was still breathing when the responders showed up. One of them actually looked at me and said, "Oh, a kitty!" I guess he has seen therapy pets at these residential facilities before. They placed the resident onto something that was a cross between a gurney and a chair and took him away. My human kept me close until they left. We finished the visit at that house shortly afterwards. My human was really rattled.
The second house is for residents with milder dementia. Once again, we visited a big living room. I was a lot more relaxed there, probably because the energy in the room was calmer than in the other house that day. I lied down and relaxed with several of the residents. In fact, at one point, I sat on the arm rests between two women while they petted me. There is one lady in particular that my human and I recognized. She always wears full makeup, and something sparkly. This time it was a deep red sweater. She kept petting me and telling my human how clean I was! There was also a lady in a wheelchair who talked about growing up in Northridge with chickens and a duck. It was quite an interesting visit.
* * *
---
---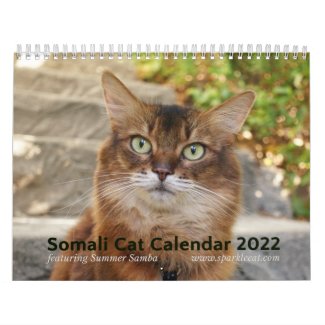 2022 Somali Cat Calendar Starring Summer Samba
See all of Summer's merch at her
her Zazzle Designercat Shop