I'm so excited to tell you that I won four Certificates of Excellence from the Cat Writers Association this year! Usually my human wins for stories she writes, but this time I got some for my blog posts.
Well, actually three of them are for my blog posts:
How to Travel With Your Cat on an Airplane
Change a Pet's Life Today: The Art of Fostering Kittens
(Thank you to the Random Felines and Tails From the Foster Kittens for the interviews!)
Therapy Cat Rules
The fourth is for a story I published on Medium, How to Introduce Yourself to a Cat: 5 Cat-Centric Tips.
Oh! And my human got some Certificates of Excellence too, including two for photos of me. They are both on Zazzle cards, and here they are: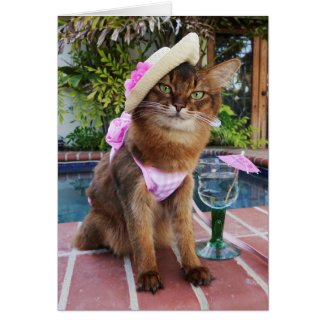 Summer Days Featuring Summer the Cat Card
by
Designercat
This is all very cool, so I'm going to celebrate by taking a selfie with my Certificate folder. To get the folder and me in the shot, I'm going to have to set the iPhone up with a timer.
I guess I measured wrong — I cut off part of the folder. Nobody will know what it says. Let me place the iPhone a little farther away.
That's better! I hope you don't mind my bragging today! I'll find out if any of them win the Muse Medallion (the top prize in each category) when I go to the Cat Writers Conference in Houston in June with my human. Maybe I will see some of you there!
* * *