My human picked up some selfie props for my appearance at Meet the Breeds this weekend. She thought it would be a fun addition to the other things I do. So for this week's selfie, I thought I would use them myself!
Because I only have so many paws, and no thumbs, my human will have to help by holding the selfie props I choose.
No! I don't want to use the glasses. They are goofy. Let me pick one I like better.
Yes, I think this one will do. Let me get the iPhone set up.
Maybe I should try another shot… I look like I'm wearing my "I see dead people" face.
Now that is what I call a queenly selfie.
We're done! Now I can do what I've been wanting to do this whole time.
* * *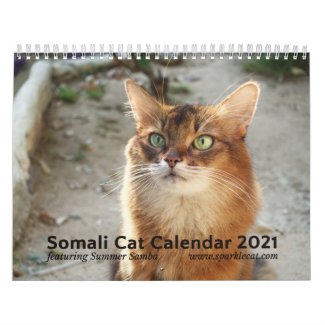 2021 Somali Cat Wall Calendar, Starring Summer
See all of Summer's merch at her
her Zazzle Designercat Shop