I was in the turret, practicing some of my tricks, and I decided this was a good time to take a selfie.
I just wanted to get everything set up properly…
Wait a minute! Where did she come from?
Yay! My human took a big hunk of freeze dried chicken and chucked it down the circular staircase. Binga went chasing after it. That always gets rid of her. And I am well behaved, so I sit and stay.
Now that I have a moment's peace, it's time for a quick selfie! There you go.
* * *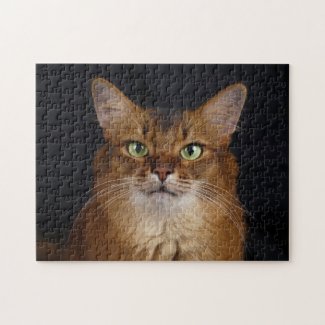 Somali Cat Photo Portrait Jigsaw Puzzle
See all of Summer's merch at her
her Zazzle Designercat Shop