I was a kitty on a mission! Can you tell? I finally got to do my shopping for my Secret Paws gifts last night! I was supposed to get this done last week, but my human was sick. Then we had the cat show this weekend. We were going to shop on the way home from the cat show on Sunday, but we were both exhausted.
Actually, my human had already bought a couple of things — when she was at one of those big store places, she saw something she thought my Secret Paws pals would enjoy. And she made a special trip to a store to get a little something for their human. She knew that their human does something she is very passionate about, so she wanted to get her something small but useful that was related to that. But I did all the main treat and toy shopping during this trip!
I tried out a few toys to see if they were good. In case you are wondering, none of the things you see in any of these photos were what I bought on this trip!
Don't worry — I got myself a little something too.
* * *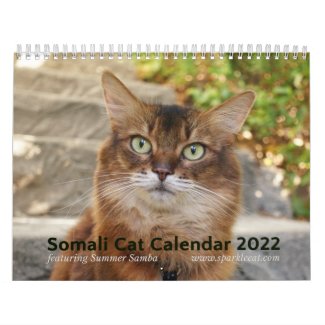 2022 Somali Cat Calendar Starring Summer Samba
See all of Summer's merch at her
her Zazzle Designercat Shop