I was really excited when I got my Secret Paws package a few days ago!
Unfortunately, I couldn't open it up right away. First my human's camera ran out of batteries, and then she went out of town. And I couldn't open the box myself — it was taped up too well!
So finally, my human came home and opened up the package for me. At first I thought that my Secret Paws had gotten me a special, catnip-scented type of bubble wrap.
Then I realized there was a whole lot more in the box! Cat grass, a plump catnip mouse and — my favorite! — a Pawbreaker!!
Plus I got a card with a nice greeting… but no name!
Those kitties looked familiar, but I couldn't quite place them. A little bit of hunting around, however, eventually led me to their blog. Thank you for the presents!
I was enjoying my gifts when I felt like I was being watched.
It was Binga, who of course expected me to share!
Now, I normally don't mind sharing my things, but Binga's version of sharing is commandeering someone else's toys and forgetting to return them.
Our discussion about the catnip mouse got a little heated. My human got really mad at us. "The holidays are supposed to be about giving! Not just receiving," she said. Typical human remark. She's never had someone try to take her catnip mouse away.
But I thought about it, and decided to give something to Binga anyhow: the scented bubble wrap.
* * *
---
---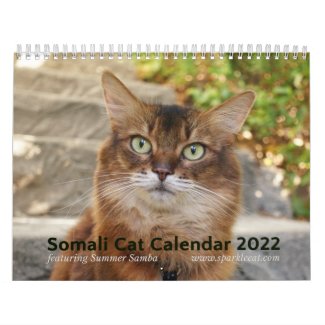 2022 Somali Cat Calendar Starring Summer Samba
See all of Summer's merch at her
her Zazzle Designercat Shop