It's time to gather presents for Secret Paws, the cat blogging version of Secret Santa. I already had some gifts set aside, but I needed to buy a few more things for the blogging kitties who I was assigned. As you can see, I was really excited to go shopping!
We went to the local pet shop that I know for sure carries the brand of treats they like. But the moment we came in, my human saw some cute sweaters with pom poms, so I had to try one on. Sadly, they had medium and extra small, but not small, which was my size for these.
Once my human put the sweaters back on the rack, and I visited with some shoppers, it was time to get serious. I looked around to see what I wanted to get.
We went by the treat section to pick up the treats my pals like.
My human also got me some treats I like, since we were running out.
I only needed to pick up a couple of toys, since I already had some ready to wrap at home. But there was one specific one my human wanted to get for them, and fortunately, it was in stock!
With that, we were done! If you are curious, when I signed up for Secret Paws, I actually asked not to have anything sent me! I already have so much stuff that I don't need anything else. Instead, I asked that whoever picked my name make a donation to a cat rescue instead. I think that is the best gift possible.
Other posts you'll enjoy:
* * *
---
---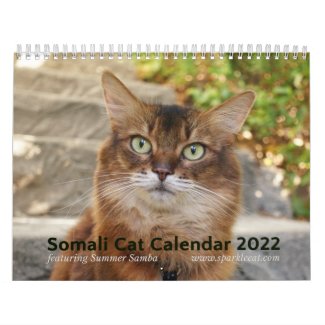 2022 Somali Cat Calendar Starring Summer Samba
See all of Summer's merch at her
her Zazzle Designercat Shop