It's a new cat show season and I was competing in a one-day CFA cat show this past weekend. It was a special show, because they were also having the awards banquet for the season that just ended a few weeks ago. But before I tell you about all that, let me show you the awesome hotel room I stayed in with my human!
It had a hallway between the desk and sitting area and the bedroom so it was almost like a suite! Note the pillows my human stuffed at the edge of the TV table — that was to keep me from crawling back there. Trust me, there was nothing that interesting there anyhow. How do I know that? Oh, I heard rumors.
Here's a shot from the bedroom side — you can see the desk in the background.
And here I am on the desk, ready to help my human get to work!
The bathroom was pretty nice too!
There were also great morning sun puddles in the bedroom — and because it was Palm Springs, there was lots of sun!
It was a long walk from the hotel room to the show hall in the adjoining convention center, and my human forgot my toys. So instead of going all the way back and possibly missing a call to take me to a judging ring, she bought a peacock feather for me from one of the vendors. It was less than a dollar.
Did you know that the non-feathery end of a peacock feather is a good jaw toner and keeps your teeth in shape? That is a show kitty tip for you.
Okay, so maybe I sort of made up that show kitty tip, but it must have worked because I got finals!
In fact, out of six rings, I got three finals! As you know, I'm still not convinced I'm going to spend a lot of time doing cat shows this season, but this is a good start.
That night, my human went to the awards banquet. We kitties weren't invited, which I think was kind of a gyp — after all, we won all those ribbons! Plus there was chicken. So I didn't get to see the awards until she got back.
I was the eleventh best Premier (altered) cat in the Southwest Region! So I got this really big ribbon!
And I got this trophy! If you recall, I had to do a photo shoot especially for it. The real professional photos were in the slide show and program.
Plus I got a surprise in the envelope that contained my certificate for my win… I actually got three certificates! I was also the Best Somali Kitten and the Best Somali Premier in the Southwest Region! I was really surprised about the kitten certificate because I think I got all of my kitten points from when my breeder was showing me, before I came home with my human.
My breeder was also at the awards show, and she was so proud of me! She gave me some gifts.
I got a Hello Kitty harness.
And a Hello Kitty crinkle toy.
Plus a little electronic Hello Kitty.
I also got a really nice toy from a breeder friend who has the Kelela Abyssinians cattery — this dragonfly toy that had to be specially ordered!
And here is what arrived in the mail while my human and I were gone — my Supreme Grand certificate from the other organization I belong to, TICA! They are having an awards banquet too, but that isn't until August.
* * *
---
---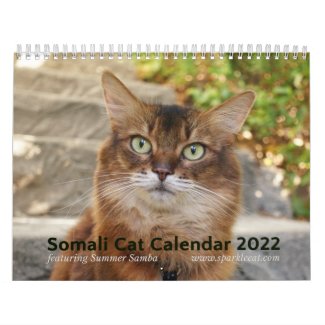 2022 Somali Cat Calendar Starring Summer Samba
See all of Summer's merch at her
her Zazzle Designercat Shop