Guess what I did on my birthday?
That's right, I went to a therapy visit at one of my regular hospitals! My human made sure to tell everyone it was my birthday, so I got lots of birthday wishes. I got lots of treats and did high fives with my human and some of the patients and staff. So it was a good day.
There was a dog team that was there too, and it was really cool because the dog was a pointer. My half brother Sizzle lives with pointers! The dog's name was Jake, and even though he was huge, I think he was a little bit scared of me! We posed together at one nursing station for photos, and Jake's owner had to push him into place so he would be closer to me. I'm sure he would like me if he got to know me.
My human is picking up enough Spanish to be helpful with our visits. In our part of Los Angeles (and in most of Los Angeles, in fact), there are lots of Spanish speaking people, so this is a good thing. Here is one good phrase she uses now: when people ask if she speaks español, she replies, "¡Muy, muy pequeño, pero se habla meow!" They always understand that, because I think anyone who wants a visit from me speaks meow. She also now knows to say, "Ella se llama Summer" to let them know my name. Maybe next she can also add, "Como verano, pero en english," which means "Like summer (in Spanish), only in English." There was one Spanish lady who was happy to see me and my human was even able to tell her it was my birthday (cumpleaños), and I was "tres años" (three years old). I bet you didn't realize you were going to get a Spanish lesson in this blog post, did you?
Thank you so much for all the birthday wishes yesterday! And thanks to Pipo, Minko and Jack and their human for the birthday graphic:
* * *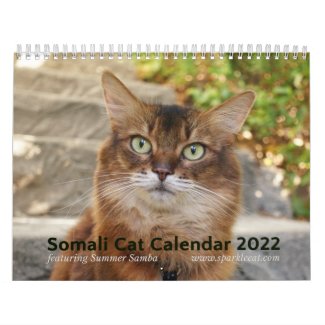 2022 Somali Cat Calendar Starring Summer Samba
See all of Summer's merch at her
her Zazzle Designercat Shop