My human dropped in at the Arcadia Cat Show on Saturday. Louie was there, and he was in fine form.
By fine form, I mean in a trouble making way!
He's a very busy guy, and always looking for something to do!
He's also impossibly cute. I hear he did very well at this show, but my human didn't go the second day because she had to visit with a very special kitty you will hear about tomorrow.
Actually, one of the big reasons my human went to the cat show was because she wanted to pick up a couple of trinkets for my Cat World Domination Day prize package. She wound up coming home with this:
She got this Glamkat from the Southern California Siamese Rescue table. From what my human can gather on the internet, they don't make them anymore, so this cool kitty is something of a rarity!
This bendable Glamkat is really attention getting! Everybody oooed and awwwed over it when she brought it back to the show hall.
Here is a close up of her face.
Apparently her name is Esperanza, and there is some information about her on this tag.
My human almost missed this detail: there is a little metal passport charm attached to her tail.
My human spent more time playing with Esperanza than she did with me! She — and Louie — are both scene stealers! I feel like this blog post has kind of gotten away from me.
Anyway, Esperanza is going into the Cat World Domination Day prize package! I wonder what will show up next.
* * *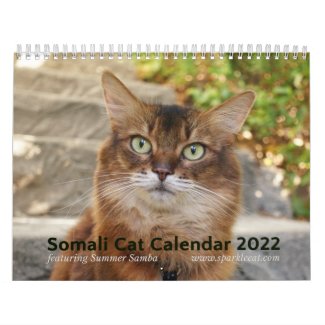 2022 Somali Cat Calendar Starring Summer Samba
See all of Summer's merch at her
her Zazzle Designercat Shop