I really liked the Day of the Dead scarf that I modeled for you yesterday. So I decided why not take this week's selfie while I'm wearing it?
I just need to grab for the… awww heck, I got my paw caught in the scarf! Give me a moment while I untangle myself.
That's better! Except for the fact that I have a treat crumb on my noise. I think I'll try again, but maybe more of a close up.
Here you go! Happy Sunday.
* * *
Check out my Valentine's Day Collection on Zazzle!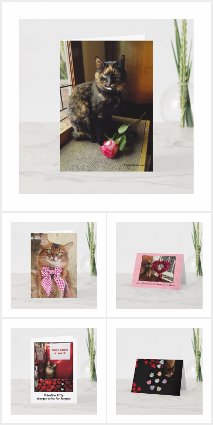 See all of Summer's merch at her
her Zazzle Designercat Shop