Although my Santa cat outfit from yesterday was cute, it was not all that easy to wear! The hood part was just a teensy bit too small so the outtakes wound up looking pretty silly. Whenever I moved my head forward, it made my eyes look like they were bulging.
I may look like I was having a word with Binga in this photo, but I wasn't. Actually I think I may have been chewing on a treat. Yes, I was bribed lots to wear this outfit.
This seems to be my "I see dead people" face.
Forget the dead people… I may have been seeing zombies here!
After a while, I was beginning to feel dubious about the whole photo session.
I liked it best when I posed without the hat. Even though you really couldn't tell what I was wearing from the front.
I hope you enjoyed my outtakes. Happy Caturday!
* * *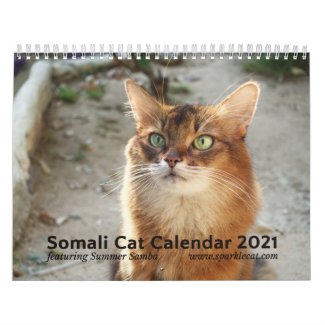 2021 Somali Cat Wall Calendar, Starring Summer
See all of Summer's merch at her
her Zazzle Designercat Shop