Tis the season, so I've gathered my Santa cat hats together! And I'm going to try all of them on so you can tell me which one you like best. I've even made it easy for you. I'm going left to right (your left), and I've numbered all the photos.
This is the oldest hat out of all of them. My human got it in 2003! You can even see Binga wearing it in this ancient blog post. And it's still here, and I'm wearing it now, and no, it has not improved with age.
Next up is this one. I thought Santa hats were supposed to flop whimsically, but even though the material of this one has good flop potential, it didn't behave. Plus it's an awkward size for my head and ears.
This hat is one of the newer ones. And one of the most comfortable to wear.
This hat is bothering me a little bit. I wore it very successfully for my first holiday photo session. But I had issues with it here. Can your head change sizes that much from when you were 8-1/2 months old?
Don't ask me what's going on here with this Santa hat. I don't know.
Oh! And I almost forgot this hat. It actually predates me. There are photos of Sparkle wearing it, and a photo of it brand new with the tag still on it from December, 2007. Funny enough, there is a card in my Zazzle shop with me wearing the hat with nearly the same expression as Sparkle. The really funny thing is, it's not that uncomfortable to wear, compared to a couple of the others you've already seen.
So what do you think? Which Santa cat hats rock, and which ones should go in the dumpster? You've got their number, so let me know in the comments!
Other posts you'll enjoy:
* * *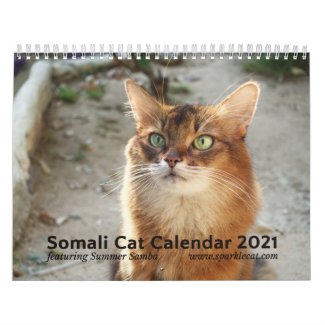 2021 Somali Cat Wall Calendar, Starring Summer
See all of Summer's merch at her
her Zazzle Designercat Shop