My human is trying to finish selecting images for my 2020 calendar, but there was one problem. There was nothing for December. Although I decided to forego most of the holiday themes this time (except for October, which is a bit Halloween-like, in a goth way), I felt I'd be remiss in passing up a Christmas shoot. So my human threw together some Christmas stuff, wrapped up an empty box in Christmas paper (cat Christmas paper at that!), and got me ready to pose. Now for the next problem: finding a good Santa Cat hat. As you can imagine, I have several, but none of them fit very well. Like this one. That didn't stay on very long before my human decided to switch it out.
This hat stayed on for about 30 seconds before it was obvious it wasn't going to work.
Finally, we went with an old standard, since it always works. It's not the most comfortable hat I've ever worn, but I don't mind it. So it was just a matter of getting a photo with the appropriately Christmas-y expression. Needless to say, this photo wasn't it.
This one was an almost, but not quite.
I think I may have nailed it with this one! In case you are wondering, I didn't stop purring the whole time I was posing for this photo session! And it lasted forever — oh, about 5 minutes. Literally! The setup, which was my human's responsibility, took about 45 minutes, and that included digging out Christmas stuff, brainstorming a setup, wrapping the empty box, and getting the settings on the camera right. I think my job was much harder because I had to wear hats and look good.
* * *
Check out my Valentine's Day Collection on Zazzle!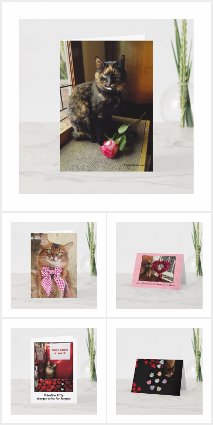 See all of Summer's merch at her
her Zazzle Designercat Shop