The San Diego Cat Show has been amazing! I've met dozens and dozens of people and gotten petted so much you wouldn't believe it! I did a couple of wardrobe changes. Lots of people loved this outfit from my pal Coco the Couture Cat. So I thought it would be perfect for a selfie!
I decided to go back into my enclosure for the selfie. Now all I need is the iPhone!
Sorry! Something distracted me for a moment there.
Ugh! I was totally not ready. It's so awful I can't believe I'm putting it on the blog.
Now that's better! I hope you like this one.
* * *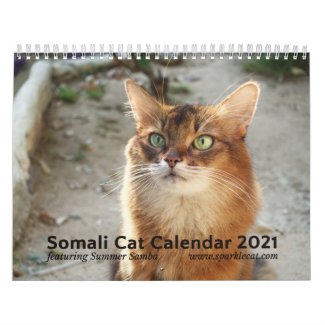 2021 Somali Cat Wall Calendar, Starring Summer
See all of Summer's merch at her
her Zazzle Designercat Shop