I'll be a Pet Me Cat at the San Diego Cat Show this weekend. In case you don't know, this is the biggest annual cat show on the West Coast, so I will be very busy. This is my third time as a Pet Me Cat, but my fifth time at this show. The first couple of times I was competing. In fact, my first time here, I earned my Grand title in my first ring! But I thought I would do a flashback today of my very first Pet Me Cat gig here.
That year, we got really cool Pet Me Cat pennants to post at our benching areas.
I was benched next to the Somali Breed Booth, so I also got to show off the awesomeness of Somalis! That was fun. I'm going to be next to the Somali Breed Booth again this year — I usually am!
My human brought several outfits for me to wear, as she usually does. This year, it's going to be pretty cold in the huge hall in the mornings, so my human is packing more sweaters and sweatshirts for me, and not so much fancy clothing. I think she is packing sweaters and sweatshirts for herself too! This show was also before I got the bell I use now. I never did like that old metal one.
I also got to go for a walk on my leash! Not all shows are big enough for me to be able to do this. So when we have a big cat show, my human likes to give me a chance to stretch my legs.
I really enjoyed being a Pet Me Cat at the San Diego Cat Show in 2017, and 2018 too! So I am really looking forward to this weekend. If you are in the area, I hope you can stop by!
* * *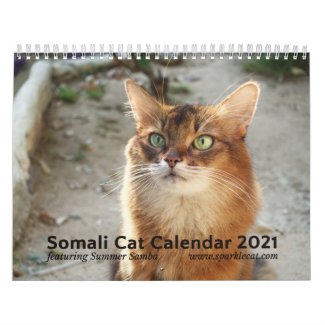 2021 Somali Cat Wall Calendar, Starring Summer
See all of Summer's merch at her
her Zazzle Designercat Shop