I'm having a really fun giveaway for you — because it's cat toys!
These are the RompiCatz Japanese Mylar toys. They all feature mylar wings, which make a really fun flapping sound when your human entices you with them. The noise is attention getting, and the iridescent wings are eye catching, and inspire a kitty's hunting instinct. Even mine! Hey, I do have a hunting instinct somewhere, you know.
I got this set of toys to try out. So let's get these packages open and get to it!
The Rustlin' Iridescent Teaser has the fun part of the toy on a stick. It's easy to make it flap. My human likes using it to get my attention for photo sessions.
Here's an action shot of me with my favorite of the three — the Rustlin' Butterfly Teaser! the butterflies are on a wire so they move totally randomly and unpredictably, which makes this toy loads of fun! You can spread out the butterflies on the wire or keep them all together.
The Rustlin' Winged Bug Teaser has the toy on the end of a long string so it can fly through the air! And so will you when you go chasing after it.
You and your human will really enjoy having lots of play sessions with these toys! And the RompiCatz human has set up an awesome giveaway: not only will one lucky winner get this set of fun toys, their favorite shelter will get a set too! When you comment on this blog post to enter the giveaway, make sure you name the shelter you want the toys to go to.
Unfortunately, this is a continental U.S.-based giveaway only, for both winner and cat rescue. If you are an international reader, you can name a friend and rescue in the U.S. to receive the prizes, though! Enter using the Rafflecopter widget below. Once you leave a comment, you will get the chance to earn more entry points.
Good luck!
* * *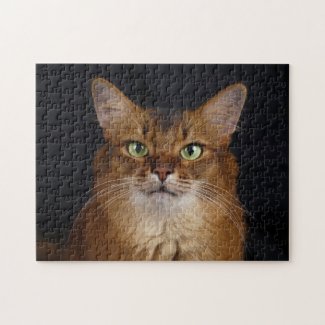 Somali Cat Photo Portrait Jigsaw Puzzle
See all of Summer's merch at her
her Zazzle Designercat Shop