It's been a year since Boodie left us, so I wanted to remember her today. She was a very unique personality. She was actually the most playful cat out of the original three (including Sparkle and Binga). And definitely more playful than me!
She was playful well into old age. In fact, she was playful until the end, when her heart started to give out.
She was the only cat that played with the track ball toys. In fact, she loved them!
She also loved TV! It was like all those videos for cats to watch were made for her. (You can tell how old this photo is by the ancient TV and number of video cassettes. This was eons before my time.)
But Boodie also loved a good nap.
Sometimes she picked very strange places for her nap!
And she considered Binga her best friend, even though Binga frequently beat her up!
Although Boodie was the quietest and most private of any cat my human had, her absence really made the house feel hollow. And the house still feels kind of empty without her.
Other posts you'll enjoy:
* * *
---
---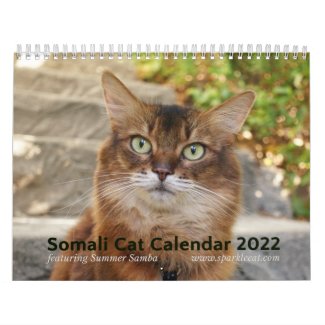 2022 Somali Cat Calendar Starring Summer Samba
See all of Summer's merch at her
her Zazzle Designercat Shop