I was modeling the other day, and my human thought I might like a play break. As if! You'd think she knew me better than that. I don't know how many of you know this, but I'm not a very playful kitty most of the time. I have my moments, of course, like every cat, where I cut loose. But when I'm working I just want to do what I'm supposed to, whether it's wear dresses, cuddle with patients, or practice tricks.
When I'm busy, I usually can't be bothered with playtime. Also to let you know, this is totally not common for my breed. Somali cats are known for their playful natures. Well, except for this Somali cat.
So yeah, I was not impressed by this toy. I wanted to get back to wearing dresses.
Finally it did pique my interest a little bit.
Okay, I played with it. Now can I get back to work?
* * *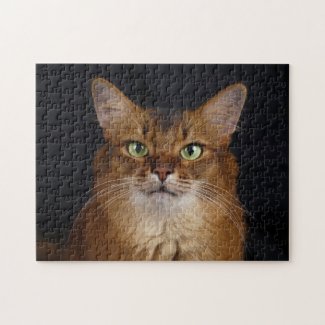 Somali Cat Photo Portrait Jigsaw Puzzle
See all of Summer's merch at her
her Zazzle Designercat Shop