I thought I was going to have a quiet, relaxing weekend of watching birdies and squirrels and catching a few zzzz's. Well, that ended with a huge ruckus in the enclosed patio! I thought somebody was getting murdered. I wondered if I should call the cops, except I don't have thumbs.
A few minutes later look who showed up! Ugh. But I noticed something strange. She looked disheveled… but she smelled good. In fact, she smelled like me when I'm getting ready for a cat show!
Well, you can probably guess what happened. Binga made a, um, mess — like old cats do sometimes. So my human gave her a bath. Of course, bathing Binga isn't like bathing me! She only got one shampoo, and some leave-in conditioner to make it easier for my human to comb out some knots during the blow dry. Binga was not a fan of any of this, and she made a lot of noise. I mean, a lot of noise! In fact, she was so loud that my human only halfway finished blow drying her. Which is why she looks messy.
Since she wasn't smelly like she was earlier, I decided not to raise a stink about her being there (excuse the pun). Besides, a little while later, my human hauled her off to the vet to pick up some meds to help with her issue from earlier.
In case you are wondering, yes, my human eventually finished brushing her out. And she was as loud as she was earlier. But she looks much better!
* * *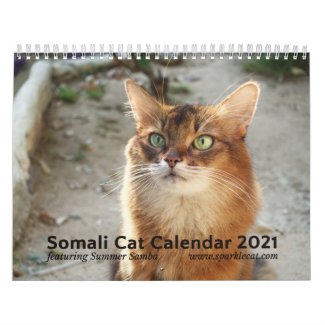 2021 Somali Cat Wall Calendar, Starring Summer
See all of Summer's merch at her
her Zazzle Designercat Shop