My breeder frequently picks up something for me at the dollar store. The latest items were some red, white and blue things for photo and cat show props, including this light up necklace. My human tried the necklace on me and even looped it around my neck twice, but it was a little bit long. Okay, it was kind of a lot long!
It was long enough to loop around a third time, though, and that did the trick. I figured this was as good a time as any to get this week's selfies done.
So, as always, I reached for my human's iPhone. One of these days, I will just get my own.
This one turned out weird! One of the red lights reflected in my eye. That doesn't look right, so I'll have to try another one.
It's a touch fuzzy, but I think it is much better!
* * *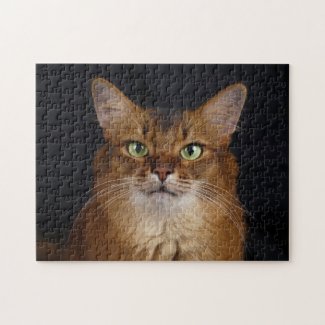 Somali Cat Photo Portrait Jigsaw Puzzle
See all of Summer's merch at her
her Zazzle Designercat Shop