This week, I have an exceptional number of outtakes of me doing weird things with my mouth. Including an assortment of raspberries, like the one above. This must have something to do with how I feel about being a shut in for the time being.
I blame some of my weirdest faces on cat toys… but they are irresistible!
I don't know how my human manages to get so many photos of me with my mouth partly open — I look like a dork. Or an unenthusiastic singer.
Remember yesterday's photo, when I shut down the photo session? This is the face I was making right before I did that.
And finally, this is my special message to Covid-19, and what it's doing to the lives of all my pals.
I hope you enjoyed today's outtakes and raspberries!
* * *
---
---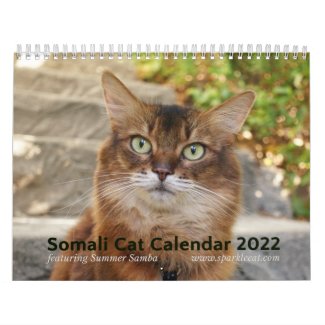 2022 Somali Cat Calendar Starring Summer Samba
See all of Summer's merch at her
her Zazzle Designercat Shop