Sometimes there's a running theme behind my outtakes, but not today! They are pretty random, but they are still silly photos.
I really, really wanted that treat!
This my favorite outtake today, mainly because it is 100 percent my human's fault! And you can tell by my ears what I was thinking of her crazy photo attempts.
My human sure is trigger happy with the camera! Here I am, clearly walking off the set, and she can't stop taking photos.
I think my human was trying to get me to wave my paw around, like I was casting a spell. It didn't work.
Apparently witch hats don't work when jauntily placed over one ear. Or maybe this was unintentional.
And once again, we've reached the end of the outtakes! If you had a favorite, let me know in the comments.
Other posts you'll enjoy:
* * *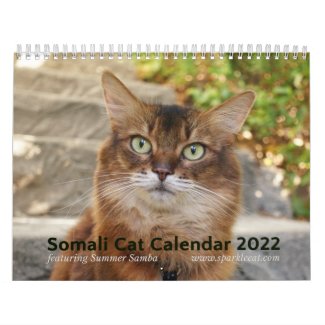 2022 Somali Cat Calendar Starring Summer Samba
See all of Summer's merch at her
her Zazzle Designercat Shop