It was a rainy day here in Los Angeles! It is about time — it's been a pretty dry winter so far. But why does it have to rain when my human and I are off shopping?
I wasn't so sure I wanted to go out in the rain! My human assured me I'd be dry in the sling. She never lets me out on my leash until we are inside anyway.
I would have been more excited if we were shopping for something good, but mainly we just needed some cat litter. Sure, my human could order it online, but when you have a cat that can go places with you, where's the fun in shopping at home?
We did see an awesome purple wool coat! I don't really need a lot of winter clothes. I have a bunch already, and it doesn't get that cold here. But this coat was really tempting… and 30% off! But my human tried it on me and it was too small.
Since I wasn't getting a new coat, I thought maybe I could get some cat toys, but my human said no. You can tell what I thought of that.
Oh, but there was catnip! Woo! After that, I didn't care about the weather.
I got some pets while my human was paying for the cat litter.
Can you believe it was raining even harder when we went back to the car? Because I was buzzed from the catnip, I forgot to cuddle inside the sling, and got a wet head. I was glad to get back home, where it was nice and dry!
* * *
---
---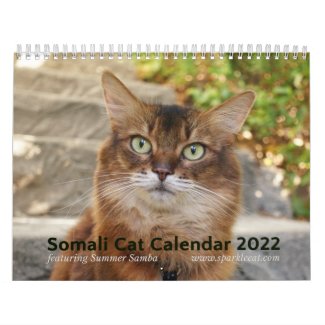 2022 Somali Cat Calendar Starring Summer Samba
See all of Summer's merch at her
her Zazzle Designercat Shop