The humans wanted to look at some of the garden between rainstorms the other day. I came along on my harness, but I was a little annoyed by how wet it all was!
Okay, I was more than a little annoyed.
No matter where I went, there were puddles. I guess I could have gone back inside, but I didn't want to, even though my paws were getting wet.
The yard really did look lush and green. I didn't go down there, though — if it was wet up here, it was probably downright muddy down there! I did think this was a good spot to pause and take some rainy day selfies.
Hm. I'm not sure I like this angle.
Maybe if I just adjust things a teensy bit…
That's better! Not the best, but I want to get back inside before the rain starts up again.
* * *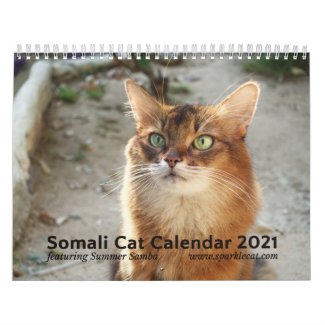 2021 Somali Cat Wall Calendar, Starring Summer
See all of Summer's merch at her
her Zazzle Designercat Shop