I have some quirky outtakes for you today from some of my recent photo shoots!
Can you guess the reason behind my facial expression? I bet some of you can.
That's right — my human was taking too long to dole out the treats.
Some of you liked the mirror shot from my Global Handwashing Day post last week. There were actually a lot more of those, including this one where it looks like I'm putting nose prints on the mirror. And may actually have.
One of my Facebook Page pals thought I didn't like the crab from the box photo session because I didn't have my paw on it. Well… I didn't really like it, but I did put my paw on it for a couple of shots.
There could practically be a meme around this photo! I do look annoyed at Dr. Bones, who is apparently trying to get up before he is ready… and falling over.
And that's the end of the outtakes! Did you have a favorite? Let me know in the comments.
* * *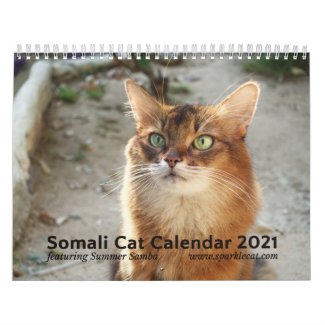 2021 Somali Cat Wall Calendar, Starring Summer
See all of Summer's merch at her
her Zazzle Designercat Shop