Before my human went running off to her vintage film festival, we stopped at the pet shop to pick up some cat food. It was just the local store, and I always get to explore on my leash.
It took a couple of moments before I remembered my favorite part of the store.
The catnip toy section!
It's so amazing, seeing so many fresh catnip toys all in one place! I mean, I can see almost as many catnip toys altogether at home, but they aren't fresh.
I could just bury my face in these toys for hours, if I was allowed.
So I don't understand why my human said I had enough toys and didn't buy me any! I mean, really, could you turn down this face?
* * *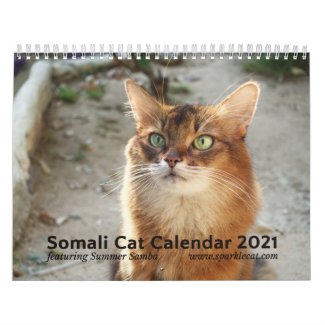 2021 Somali Cat Wall Calendar, Starring Summer
See all of Summer's merch at her
her Zazzle Designercat Shop